{{Infobox character |Name = Fumika Teruya |kanji = 照屋 文香 |Romaji = Teruya Fumika
|image =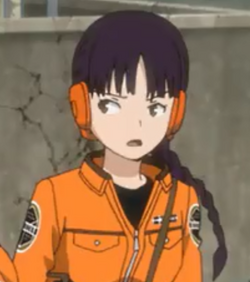 [[File:Teruya.png
|gender = Female |Birthdate = July 21 |Age = 16 |Species = Human |Height = 157 cm |Blood Type = O |Status = Alive |Affiliation =

Border |Branch = HQ |Team = Kakizaki Unit |Team Rank = 14 |Class = B |Teammates = Kuniharu Kakizaki (Leader)
Kotarō Tomoe
Madoka Ui (Operator) |Occupation = Combatant |Position = All-Rounder
|Main = Kogetsu
Senkū
Shield
|Subs = Asteroid
Hound
Shield
Bagworm |Type =

Normal
|Voice Jap = Yuri Noguchi |Anime = Episode 25 |Manga = Chapter 54}}
Fumika Teruya (照屋 文香, Teruya Fumika? ) is a character from the Manga and Anime series World Trigger. She's an All-Rounder of Kakizaki Unit.
Appearance
Edit
Teruya is a girl with long hair braided into a ponytail, with bangs covering her forehead.
Personality
Edit
She likes pudding, sōmen (a type of fine white noodles), piano, and dogs.
Ad blocker interference detected!
Wikia is a free-to-use site that makes money from advertising. We have a modified experience for viewers using ad blockers

Wikia is not accessible if you've made further modifications. Remove the custom ad blocker rule(s) and the page will load as expected.