Sōichi Mogami
(

最上 宗一

Mogami Sōichi

?)
was a member of
Old Border
and
Yūichi Jin's
mentor.
Appearance
Edit
Personality
Edit
He was a very close friend of Yūgo.[1] He also disliked conflict, and wished for co-operation in Border.[2]
Sōichi was a former Border Agent, and one of Border's founders. He also was Yūgo's rival. He used to be Jin's mentor.[1] He used his life to make a Black Trigger, the same trigger which Jin formerly used.
Yūma mentions him as the acquaintance his father had in Border.[1] Rindō reveals that he died 5 years ago after creating Fūjin.[3]
Abilities
Edit
Having taught Jin, one of Border's most powerful agents, how to fight with Triggers, and having been Yūgo's rival[2] when the latter was as strong as Shinoda currently is,[4] Mogami was undoubtedly an extremely skilled fighter. His ability to create a Black Trigger implies that he possessed a very large amount of trion.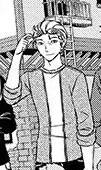 In a photograph of Old Border, a fair-haired man is depicted who many fans speculate could be Mogami, due to his stading next to Shinoda and Jin.[5] His sunglasses and slicked back hair are also similar to what Jin will wear later on. This would be consistent with Yuri's explanation to Osamu, as she revealed that the man in the photo died a little over five years prior to the current events.[6]
References
Edit