Servitora (藁の兵, Seruvitora? , lit. Straw Soldier) is Galopoula's Trigger used by Wen Sō.
Appearance
Edit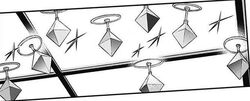 The Trigger consists in a series of mirrors shaped like regular octahedrons, floating thanks to a ring of light. They create three-dimensional copies of the user. Should a mirror be destroyed, its corresponding copy will disappear, too.
Abilities
Edit
This Trigger reflects the user's image, creating three-dimensional holograms.[1] These duplicates are optical illusions, and as such possess no offensive power,[2] but are useful in disorienting the opponent, since they will be unable to discern which is the real one and where the next attack will come from. The copies possess a trion signature, which prevents an Operator from finding the real one.[3] Since the duplicates are reflections, left and right will be inverted;[4] however, if a copy is reflected, left and right to be inverted again, thus matching the user's image perfectly.[5]
Servitora (Σερβιτόρα, Servitóra) is the Greek word for "waitress".
References
Edit