A Side Effect (副作用, Saido Efekuto? ) is an ability manifested in certain individuals with high trion levels. This ability usually takes form as enhanced physical abilities or extrasensory abilities.
Border organizes Side Effects into four types:
S - Extrasensory Perception (超感覚 Chō Kankaku)
A - Superhuman Ability (超技能 Chō Ginō)
B - Special Constitution (特殊体質 Tokushū Taishitsu)
C - Enhanced Senses (強化五感 Kyōka Gokan)
Side Effect Holders
Edit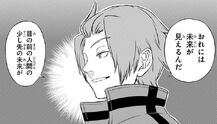 Ad blocker interference detected!
Wikia is a free-to-use site that makes money from advertising. We have a modified experience for viewers using ad blockers

Wikia is not accessible if you've made further modifications. Remove the custom ad blocker rule(s) and the page will load as expected.