{{Infobox character |name = Teruteru Kōda[2]
|image =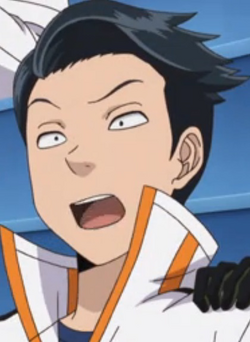 [[File:Kouda Manga.png]]
|Romaji = Kōda Teruteru |kanji = 甲田 照輝 |Age = |gender = Male |Species = Human |Hair = Black |Eyes = Black |Status = Alive |Affiliation =

Border |Team = Kōda Unit |Teammates = Fumifumi Saotome
Hidehide Hinoe |Occupation = Combatant
Team Leader |Position = Shooter |Main = Hound |Class = C |Rank = |Usage Points = 2200[3] -> 3972[4] (Hound) |Manga = Chapter 33 |Anime = Episode 17 |Voice Jap = Ryōsuke Kanemoto }} Teruteru Kōda (甲田 照輝, Kōda Teruteru? ) is a C-Rank Member of Border and the Leader of Kōda Unit.
Appearance
Edit
He has medium black hair slicked to his left-hand side, and black eyes.
Personality
Edit
Due to his skills, he is cocky and arrogant. He, along with his teammates, has been described by Replica as being stupid,[5] as evidenced by them incorrectly believing Arashiyama Unit has no real strength.[5] Additionally, despite his strength and confidence, he gets easily scared when he realizes he's at a disadvantage.
Relationships
Edit
(About Arashiyama Unit) "Arashiyama Unit is completely composed of people who were chosen to publicly advertise the face of Border, they don't really possess any strength, they're only a mascot team. This is common knowledge for the people who know of the "hidden face" of Border." [5]
"Teruteru" is written with 照 ("illumination, shining") and 輝 ("brightness, lustre, brilliance"). "Kōda" (

甲田

? ) means "first field".
His voice actor, Ryōsuke Kanemoto, also voices Takaaki Katagiri.
References
Edit
Ad blocker interference detected!
Wikia is a free-to-use site that makes money from advertising. We have a modified experience for viewers using ad blockers

Wikia is not accessible if you've made further modifications. Remove the custom ad blocker rule(s) and the page will load as expected.