{{Infobox character
|image =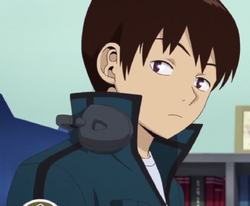 [[File:Okudera.jpg
|name = Tsuneyuki Okudera |Romaji = Okudera Tsuneyuki |kanji = 奥寺 常幸 |gender = Male |Birthdate = May 20 |Constellation = Felis |Age = 16 |Height = 167 cm |Hair = Dark Brown |Eye = Purple |Blood Type = A |Species = Human |Status = Alive |Manga = Chapter 45 |Anime = Episode 22 |Affiliation =

Border |Team = Azuma Unit |Teammates = Haruaki Azuma(Leader)
Noboru Koarai
Mako Hitomi(Operator) |Class = B |Main = Kogetsu
Senkū
Shield
Grasshopper
|Subs = Shield
Bagworm |Type =

Normal |Rank = B |Voice Jap = Shintarō Ogawa |Usage Points = 7188[1] (Kogetsu) |Team Rank = 7 |Position = Attacker}} Tsuneyuki Okudera (奥寺 常幸, Okudera Tsuneyuki? ) is a Character of the manga World Trigger. He's a member of Azuma Unit.
Appearance
Edit
Okudera is a short male with black hair that is slicked into a point pointing up in the back. He is always wearing headphones around his neck when in trigger mode.
Personality
Edit
Relationships
Edit
He likes soccer and ramen.
References
Edit
Ad blocker interference detected!
Wikia is a free-to-use site that makes money from advertising. We have a modified experience for viewers using ad blockers

Wikia is not accessible if you've made further modifications. Remove the custom ad blocker rule(s) and the page will load as expected.